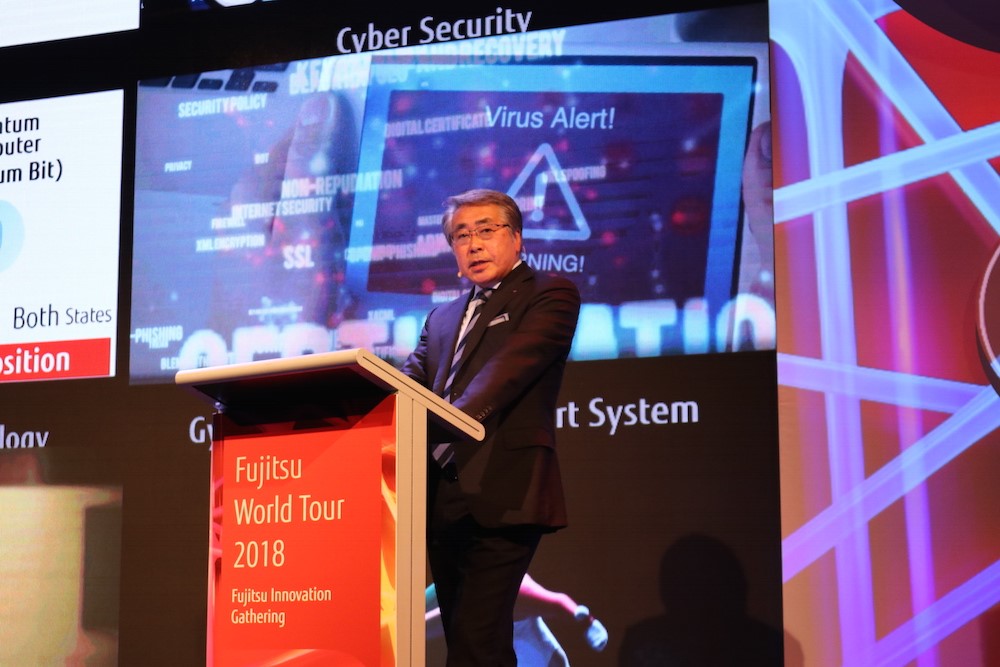 Last week, Fujitsu celebrated many different facets of co-creation and innovation at our combined Nordic Fujitsu Innovation Gathering and World Tour event in Stockholm.
The day attracted a record audience of over 800, as we celebrated 150 years of diplomatic relations between Japan and Sweden with the Japanese Ambassador, His Excellency Mr Jun Yamazaki. A morning of keynote presentations included guest speaker Dr Ayesha Khanna of ADDO AI on the subject of Smart Cities, and Fujitsu's Corporate Executive Officer, SEVP and Head of Americas and EMEIA, Duncan Tait on Digital Co-Creation for Success.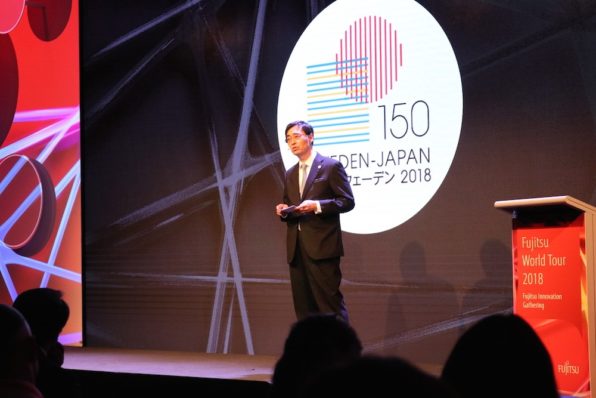 His Excellency Mr Jun Yamazaki, the Japanese Ambassador to Sweden, on stage at the 2018 Fujitsu Innovation Gathering and Fujitsu World Tour in Stockholm
In my own keynote, the focus was on how advanced technologies can be used to solve social challenges, presenting Fujitsu Laboratories' R&D strategy as a means of predicting future global trends. This idea of socially responsible innovation is fundamental to our work, underpinning our global activities.
The fundamental role of technology is to resolve societal issues and bring happiness and well-being to the people around the world. As digital technology is ever more firmly embedded into both business and society, the importance of solving societal issues increases. The mission of Fujitsu as a technology company is to tackle these head-on with cutting-edge technologies, including the Quantum-inspired computing "Digital Annealer".
We already have a deep insight into the challenges faced by society in the future, and therefore a responsibility to innovate to help it. Above all, our goal is to support people to enhance their performance to the maximum possible, as well as providing them with completely new knowledge from the experience. This is how we can empower them and enrich daily life.
However, we also have a responsibility to reassure people about the unwanted effects of IT, as it penetrates more widely and its role expands. This involves developing human-centric and advanced technologies, orchestrating human powers and IT, in order to provide secure products and services to society as a whole.
During our 6th Fujitsu Innovation Gathering, we demonstrated 16 of Fujitsu Laboratories' latest advances, highlighting the tangible results of the process I have just explained.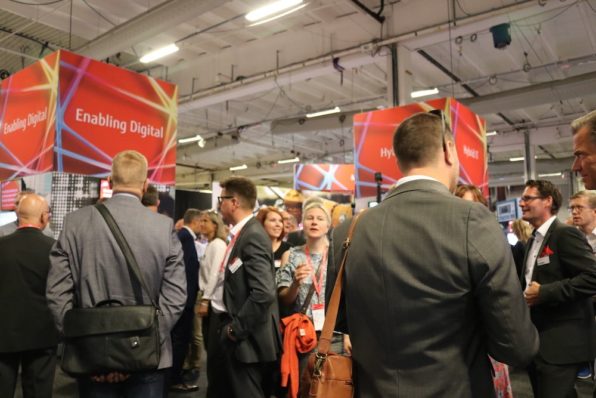 Over 800 attendees at the 2018 Fujitsu Innovation Gathering and Fujitsu World Tour in Stockholm
At the heart of many of them is the deployment of Artificial Intelligence (AI) – and we have been working extensively on the concept of Explainable AI, combining Deep Tensor and Knowledge Graph to implement quantifiable AI that can be understood and justified. From system automation, understanding emotions and feelings, to medical care, gene analysis, drug discovery and cyber security – we are making enormous strides forward.
We look forward to welcoming you to a new country and a new venue next year, as the Fujitsu Innovation Gathering once again provides a unique insight into our human-centric R&D activities.