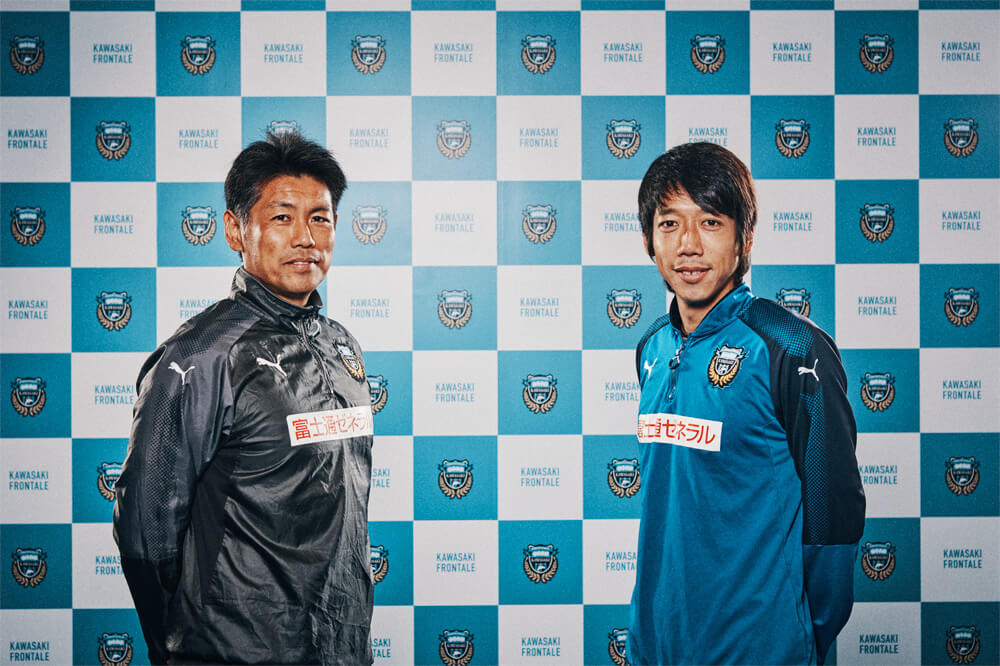 This new series explores the possibilities of "Sports + ICT" by speaking with prominent top athletes and the staff who support athletes and teams.
In Volume 2 of this series, we delve into the world of soccer. We asked player Kengo Nakamura and the team's fitness coach Yosuke Shinoda of the J1 League champion team Kawasaki Frontale about the secrets behind achieving their long-held dream of winning the championship, the latest training methods using ICT, and the future of sports.
Charging into a New Season After Seizing the Coveted Championship―Shaking Off Great Pressure to Emerge Even Stronger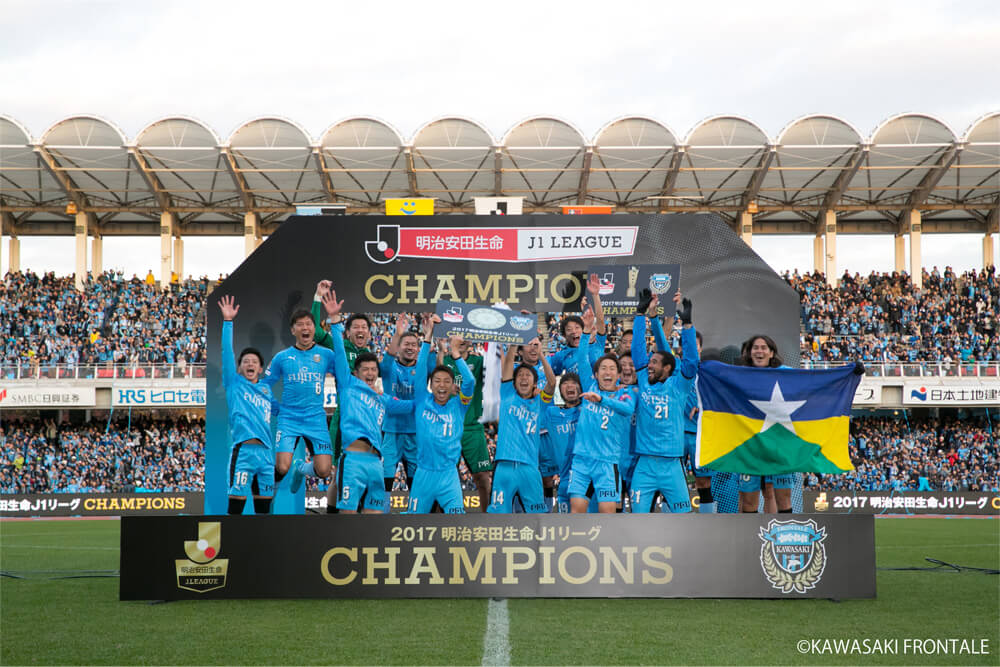 On December 2, 2017, the players of Kawasaki Frontale celebrate following their upset victory at their home ground, Todoroki Stadium - a moment of elation for the team.
― Last season, Kawasaki Frontale won their first ever J1 League championship. How did you feel when you won?
Nakamura: It's hard to put it in words. Twenty-one years after the club was founded, and 15 years since I've been a part of the team, we finally won. In the past, we'd gone as far runner-up eight times but had let victory slip away. We thought deeply about how we could win, but weren't able to. After carrying all that with us, it was really a welcome relief in a way. There was also great joy, of course, and a refreshing feeling of rejuvenation.
Shinoda: I think the championship title is the embodiment of our determination to never quit, and of the team's united spirit. I felt the same as Kengo; I was overcome with elation and a massive sense of relief.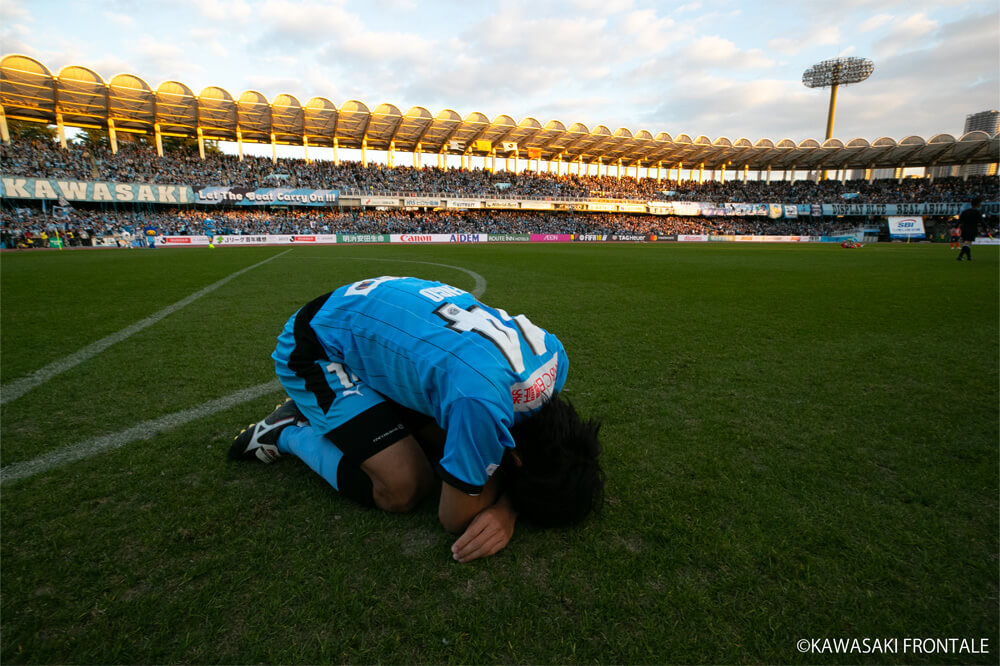 Kengo Nakamura collapses on the field with tears of joy after seizing victory.
― Has the team spirit or your personal feelings changed since winning the championship title?
Nakamura: I don't think we've changed that much, but the expectations of the people around us have definitely shifted. We get rebuked pretty harshly just for losing one match now (laughs). But I think that comes with the territory of being champion. Also, I feel like the teams we play against are studying us more closely, and I feel their determination to beat us. But I think that overcoming these pressures is what's going to make us even stronger and more competitive. I want to win again this year and experience it all over again. It really was an awesome feeling.
The New Coach's Physical Training Reform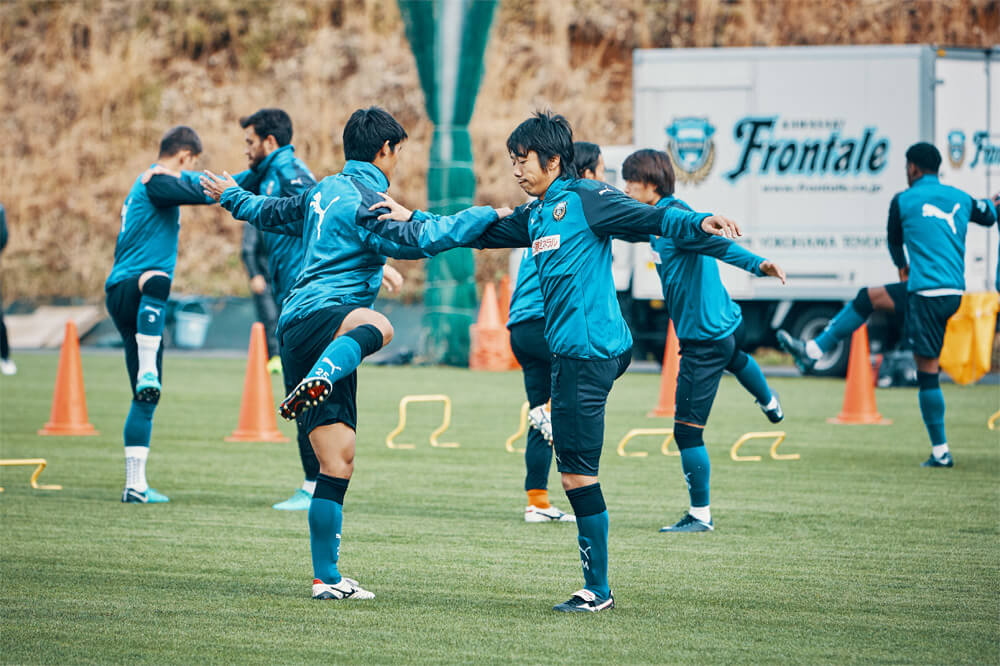 Kengo Nakamura and his teammates going through the paces of physical training at their practice ground.
― What do you think are the secrets behind what led you to the championship and the strength of Kawasaki Frontale?
Nakamura: Last season, I think we were able to stick to our philosophy of "offense soccer," while also strengthening our defense, and developing a strategy that leaves fewer weak spots.
Shinoda: The secret behind Frontale's strength lies in the players' awareness of the importance of training, and the sense of unity among the teammates. I joined the team last season, but before that, Frontale hadn't had a fitness coach for five years. I heard that all the players did their warm-up routines individually, without any guidance. I was worried at first about how a team like that would react to my approach, but everyone was fully committed from day one. With the championship title in their sights, they spared no effort in even the most painstaking exercises.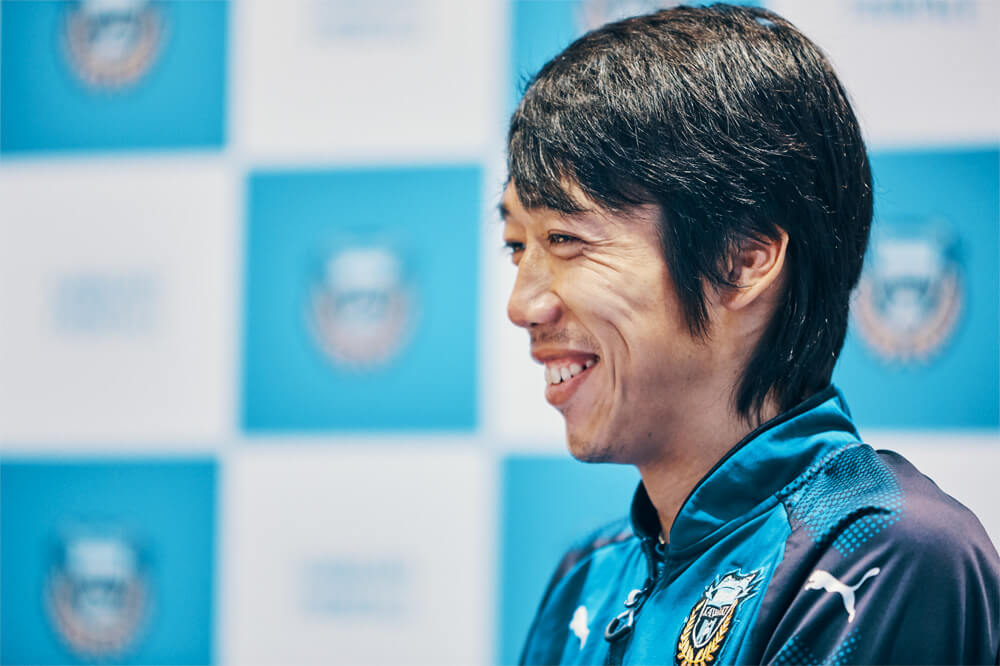 Kengo Nakamura during the interview. Tossing around the occasional joke, he showed glimpses of his role as an inspirational member of the team.
Nakamura: It'd been a while since we got together as a team for our physical training. It was an invigorating experience. Also, I'm getting to be that age where I'm not a huge fan of physical training, so I was worried at first if this coach was going to be a pain in the neck (laughs)." But Shinoda is really good-natured, and he explains things thoroughly and clearly. He's a keen observer of the player's physical conditions and considers the time we have until our next match when he puts together our training regimen. So we feel at ease whenever we want to discuss any problems we might have. It's not just me. All my teammates trust him, too.
Boosting Fitness - Leading the Way to Victory by Avoiding Injuries
Fitness coach Yosuke Shinoda going through warm-up routines with the players. His mild-mannered demeanor is striking.
― Part of the reason why Coach Shinoda was asked to join was to reduce the number of injuries.
Nakamura: That's right. Before he joined, we struggled with players getting injured every year. I've sustained injuries too, and haven't been able to play in some matches. Some of these injuries happen during games, where there's often intense physical contact, and that can't be helped. But we were also getting muscle-related injuries like pulls and tears. I think having Shinoda join with his approach to address this problem really had a positive impact. We had fewer injuries in the second half of the season, which I think we can attribute to the physical training routines.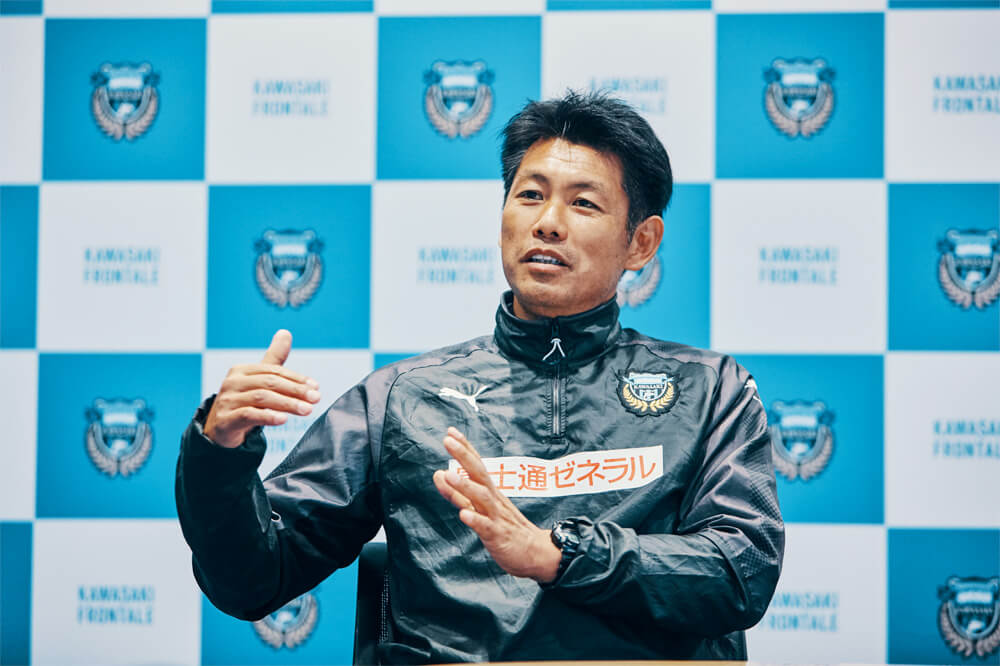 Yosuke Shinoda, the fitness coach, discusses the importance of physical training designed to avoid injuries.
Shinoda: One thing I consider crucial in physical training is to build bodies that don't get injured. If you can avoid injuries, you can consistently continue your practice. This naturally boosts fitness, which in turn leads to better match performance and more victories for the team. What's more, I think when athletes enjoy themselves during training, it helps to prevent injuries. I make a point of having trivial, nonsensical conversations during training.
Nakamura: Shinoda is all smiles while he gives out instructions during practices, but the actual content of the training is pretty exhausting. I think he has us all fooled with his chumminess (laughs). But I'm grateful that we can have a bit of fun while going through his tough exercise regime.
To Succeed on the Front Lines, Interaction Between Athletes and Their Bodies is Crucial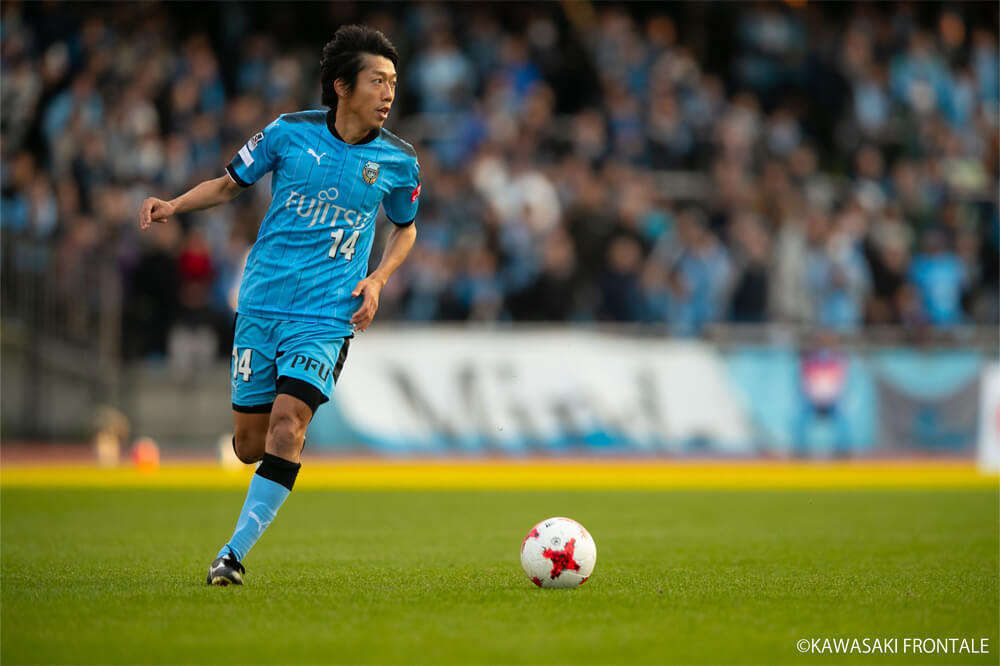 Kengo Nakamura, currently the team's oldest member, continues to lead the way as a prominent player.
― Nakamura, you're now 37 years old, and you've won the J.League Annual MVP award, the oldest to win it in the league's history (at 36 years old). You've also played a total of 400 matches total in J1, and are as active as ever on the front lines. What do you do to stay in such good condition?
Nakamura: Nothing special, really. I'm just doing what I think is best at each moment.
Shinoda: He's being modest. Kengo is a player who knows how to interact with his body. He sees his body from an objective point of view, and thinks about what conditioning he needs at each moment, and follows through with it. That's why he's so physically stable. You can say the same thing about other athletes who've been playing for a long time. With Kengo, he doesn't have a particularly big body, and may not seem to be as strong as other players just by watching matches. But that means he's learned through extensive experience to control his power according to the situation. Even now, when measuring the agility and jumping abilities of team members, he'll score high in the rankings even compared to his younger teammates. I don't say this out loud, but I've nicknamed him the team's "hidden-fitness player."
Nakamura: "Hidden-fitness player." I like it!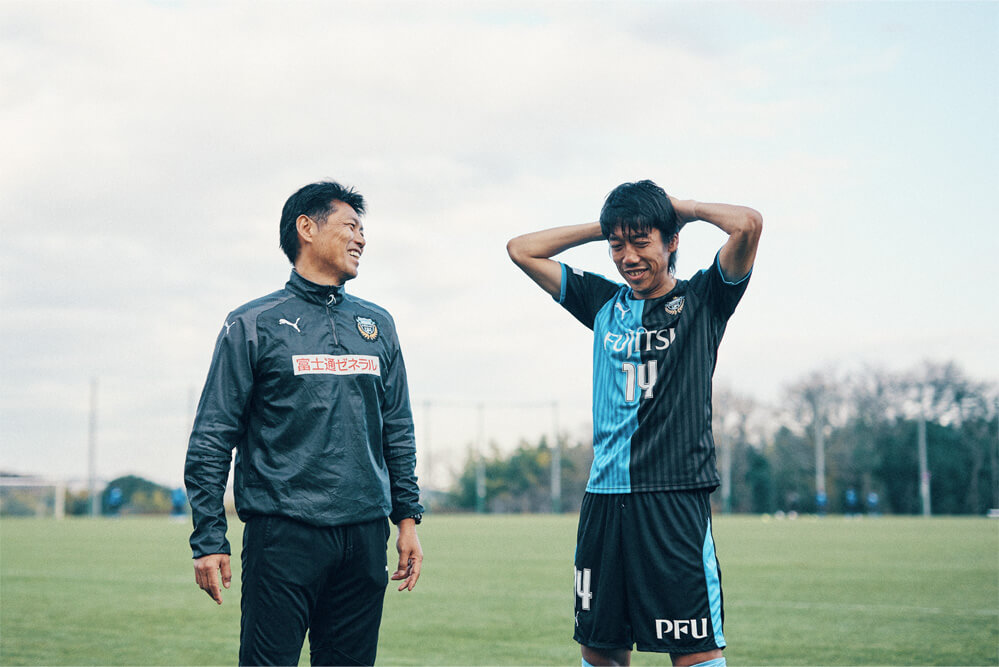 Yosuke Shinoda, the team's fitness coach (left), chats with Kengo Nakamura (right). Their trust-based relationship allows them to be candid with each other.
Shinoda: Even as you get older, you can still maintain your stamina to a certain degree. However, skills essential to soccer, like agility and strength, need to be constantly honed through training. Otherwise, you lose your edge. When you're young, you can rest a little bit and you'll recover. But as you age, recovery takes more time. That's why it's so important for athletes to interact with their bodies, and steadily continue the care about their body's needs on a daily basis to remain active at the forefront.
In Part 2, we discuss taking advantage of ICT in physical training and condition management, and the ideal future of soccer.
(Continue to Part 2)
Kengo Nakamura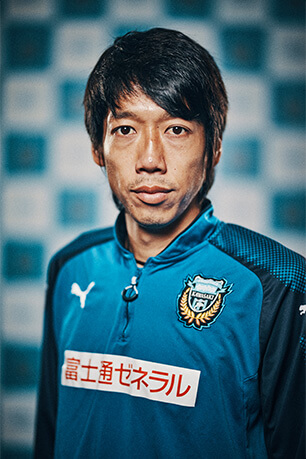 Kengo Nakamura was born in Kodaira, Tokyo on October 31, 1980.
He joined Kawasaki Frontale in 2003 while studying at Chuo University. He's a veteran player who's remained with the club for 16 years. Nakamura was also a key player in the Japan national team, and won the J.League Most Valuable Player award during the 2016 season. One of Japan's leading soccer players, he is known for his ability to spot weaknesses in his opponents, and employs his superior techniques and strategized maneuvers to exploit them. At 37 years old, Nakamura's cunning tactics that exhibit extraordinary effectiveness at decisive moments have not faltered in the slightest. Last season, he finally won the long sought-after championship title for the first time. He will continue to play in the new season with the backing of fans and others who have supported the club.
Yosuke Shinoda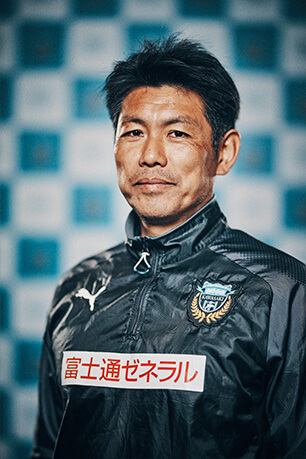 Yosuke Shinoda was born in Utsunomiya, Tochigi on September 19, 1971.
He learned the fundamentals of medical science, exercise physiology, and sports psychology at university and graduate school in the US before launching his career as a sports mentor. In 2004, he became the fitness coach for the Yokohama F. Marinos. Leveraging the many years of experience he cultivated during his career, Shinoda became the fitness coach for Kawasaki Frontale starting last season. The unwavering trust he receives from the athletes helps him to keep them at the top of their game.