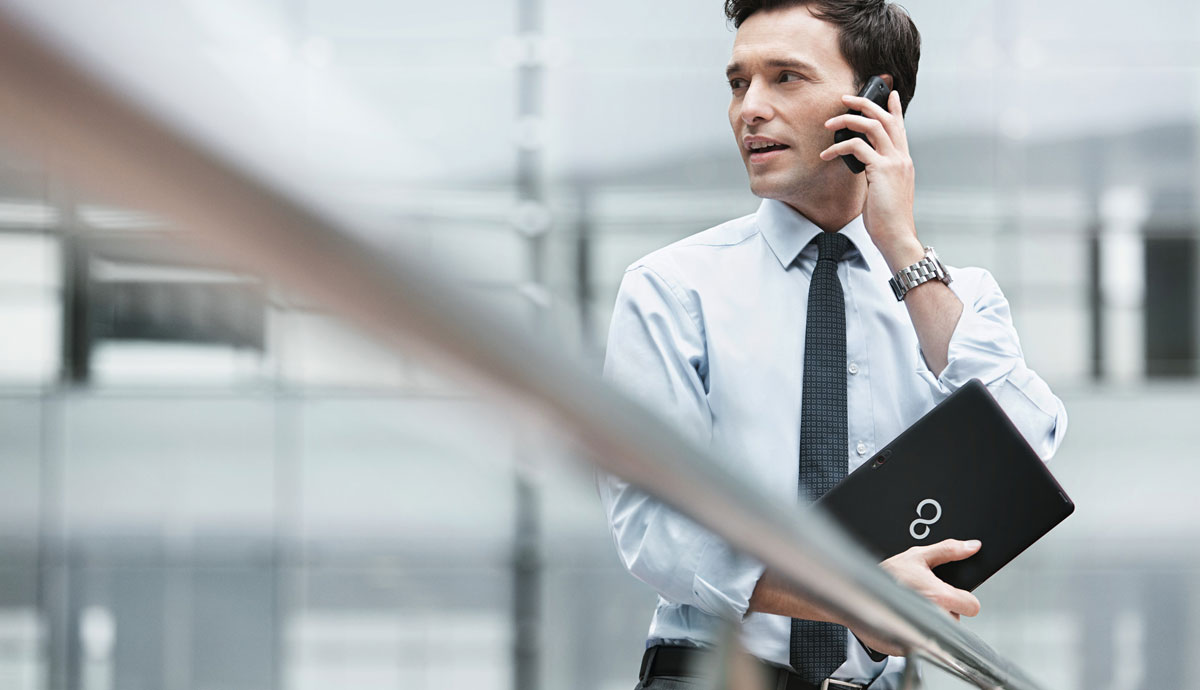 On-the-go professionals and modern collaborators have a clearly defined set of requirements concerning their mobile devices. These demands comprise ergonomics, stamina, support for creative working styles and flexibility at the same time. Manufacturers of mobile devices must be absolutely conscious of these requirements in order to provide compelling answers.
When it comes to the daily routines of today's professionals, working on-the-go is a given fact. This includes getting jobs done while travelling, but also for example working at the location of a customer or collaborating in in-house or external co-working spaces. These prerequisites of modern working styles result in a new set of requirements that on-the-go professionals and typical collaborators have alike.
Ergonomics and silence: First and foremost, mobile working puts new demands on ergonomics. Besides precise and easily operable keyboard as well as other input devices this also concerns operating noise. When executing all kinds of challenging tasks, a high level of concentration is essential. Mobile workers must not be disturbed by noticeable fans noises or other unpleasant operating sounds.
Researchers of workplace health such as the psychologist Prof. Dr. Jürgen Hellbrück of the southern German Catholic University Eichstätt-Ingolstadt point out that those annoying noises in working environments rise stress levels and reduce the productivity of employees. For device manufacturers this means that they must strive for high performance while still implementing fanless designs. Another crucial component of mobile devices affected by this requirement is the screen: In order to facilitate comfortable and exact working in various environments, a high luminous intensity is necessary – ideally, the screen should reach an illumination of well over 500 Candela (cd).
Stamina: Of equal importance is a low energy consumption, which in turn enables longer battery runtimes. Even if modern portable computers provide many hours working out of one battery charge, under some conditions mobile workers must be prepared to stay independent from power outlets even longer. In those situations, a user-replaceable battery is the most effective way to easily double a mobile device's runtime.
Creativity: Even when all requirements described above are fulfilled, modern mobile devices also have to adapt to their users' working styles and habits. For creative professionals for example, this means being able to use highly sensitive pens for sketching, drawing or taking handwritten notes. While these technologies had originally been introduced as add-ons to stationary computers, they are nowadays also an important feature of high-end mobile devices as well. Modern pen solutions are multifunctional and can differentiate between more than 4000 pressure levels.
Flexibility: For the described working styles, 2-in-1 devices have been established as the optimal choice. Depending on their user's current needs, they can serve as a conventional notebook or as a tablet computer optimised for finger or pen operation. But even if this class of devices is increasingly popular in the marketplace, it is the details that make the important difference: Are mechanical or magnetic joints firm and stable? Can the user transform the currently needed operating mode fast and easily? Is the structure fit to last over a device's whole lifetime? Flexibility does count much if it is not combined with long-term reliability and ease-of-use.
FUJITSU's answer: Obviously, Fujitsu is absolutely aware of all the requirements and conditions that we just compiled. The latest addition to our range of 2-in-1 devices, the FUJITSU STYLISTIC V727 provides compelling answers to all of them – and much more. We would like you to become acquainted with this impressive device here.