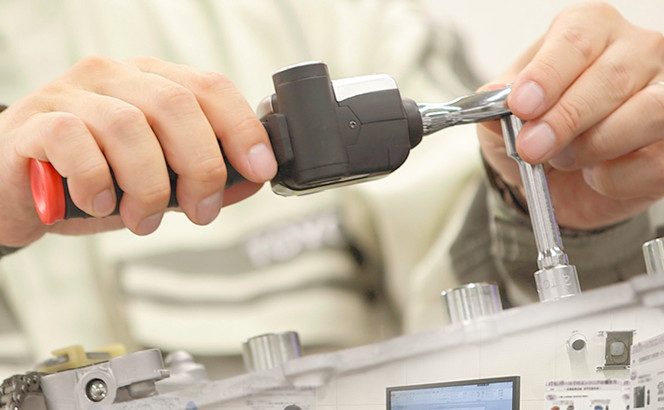 Toyota's Technical Service Division Supports the Company's 40,000 Service Technicians Nationwide. Design Thinking is Key to the Overall Process, but What is Involved?
"We want our customers to feel safe when they're behind the wheel of a Toyota vehicle." Based on this philosophy, Toyota Motor Corporation (TMC) supports a comfortable driving experience for its customers by maintaining an after-sales service structure comprising some 5,000 service centers with 40,000 employees in Japan alone. Toyota's Technical Service Division has around 300 employees engaged in providing professional development, servicing information, service technology development, and vehicle repair support to enable the service technicians working at those centers to fully utilize their technical skills.
When including the staff at subsidiaries involved in compiling technical information, the total comes to around 800 people.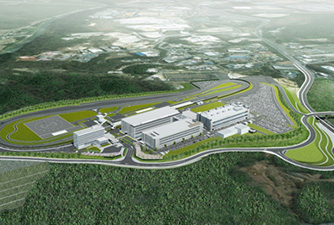 Tajimi Service Center (CG). The roles of Toyota's Tajimi Service Center are to enhance service technician training and conduct R&D programs into vehicle servicing technology.
Toyota is known around the world as the company that spearheaded the practice of kaizen, or incremental improvement. This involves line workers increasing efficiency and safety by pooling their knowledge to quickly identify and eliminate waste in the production process. In addition to the company's kaizen culture, the Technical Service Division has adopted a practice proposed by Fujitsu called Design Thinking and is now using this to drive a new initiative focused on innovation.
"We have a range of kaizen methods for solving problems, and this translates into significant benefits for the company," says Jingo Ohashi, General Manager, Technical Service Division, Customer First Promotion Group. In his view, adding Design Thinking into the mix has made an enormous difference to the work process and is also changing the corporate culture and the way employees think. He notes that, "As far as the Technical Service Division is concerned, kaizen and Design Thinking are inseparable. You can't have one without the other."
Let's take a look at the exact nature of the Design Thinking methodology mentioned by Jingo Ohashi and investigate the initiatives undertaken by the Technical Service Division to see what tangible benefits they are generating.
Fujitsu
September 21, 2017