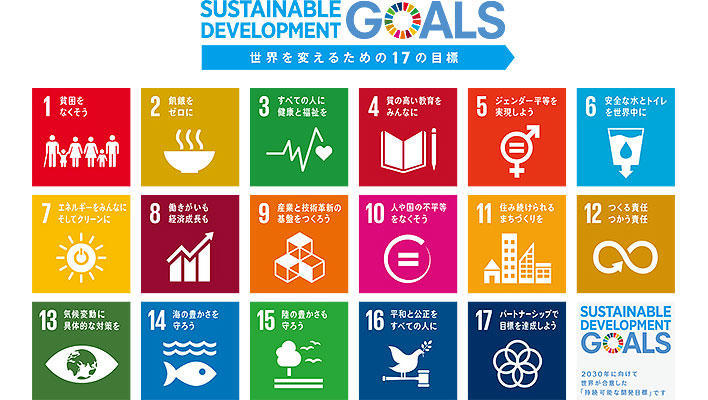 In January 2016, the UN's Sustainable Development Goals (SDGs) came into effect. Since the G7 Ise-Shima Summit held in May 2016 also discussed the SDGs, more companies have incorporated them into their CSR strategies. In addition, Fujitsu held an in-house seminar to learn about the SDGs, "Environment Seminar: Knowing the SDGs," on October 24, 2016 to help employees understand the SDGs so that they can put such understanding into practice in their fields of business. Global Marketing employees gathered in the seminar room to deepen their understanding of SDGs as the seminar content was streamed live via the company intranet.
17 Sustainable Development Goals (SDGs) to Transform Our World
In September 2015, the 193 Member States of the United Nations unanimously adopted the 2030 Agenda for Sustainable Development. This Agenda is an action plan to ensure that the declaration and targets are implemented and achieved by 2030 for people, the planet, and prosperity. The SDGs, which came into effect in January 2016, aim to promote prosperity while protecting the planet. The SDGs include 17 goals (refer to the figure above) that are broken down into 169 smaller targets; they require all countries, both developed and developing, to strive to transform our world to be more sustainable under the principle of "leaving no one behind" by focusing on environmental issues and economic growth.
As a member of the international community, Japan too is working to achieve the targets set out in the SDGs. These major goals cannot be achieved without cooperation and collaboration among government, private enterprise, and citizens.
Taking Action Towards a Goal Creates a Virtuous Cycle for Resolving Global Warming and Other Social Issues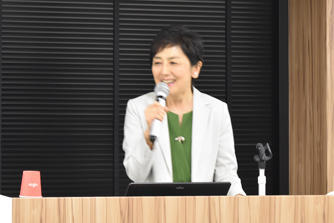 Yuko Kuniya, Newscaster
In this seminar, Yuko Kuniya, the former host (newscaster) of the NHK program Close-up Gendai, first took the podium to deliver a presentation entitled "The Importance of the SDGs." While showing a video about the SDGs that was broadcast on Close-up Gendai, Ms. Kuniya explained the background to the launch of the SDGs, their objectives, and the importance for the entire world to address them in an easy-to-understand manner.
Disasters due to abnormal weather caused by climate change and the resultant deterioration in production environments lead to employment issues. Population concentration in cities, environmental pollution, and worsening disparity due to increasing poverty, growing dissatisfaction with society, and feelings of alienation that lead to thoughts of terrorism―Ms. Kuniya explained that to break this chain of vicious cycles that are driving the world to environmental and social instability, we must face the reality of these problems as well as plan and implement measures promptly.
"Developed countries must question their own way of growth, not merely provide economic assistance to developing countries as they have done in the past. The present is an era in which developed countries must actively show new development models to developing countries," she stated, citing as an example the food waste ban for supermarkets that came into effect in France in February 2016, which has cut the country's volume of food waste in half. She explained that Japan is one of the world's largest food-wasting countries, disposing of about 28 million tons of food waste annually, of which "food loss" amounts to about 6.32 million tons *, around twice as much as the amount of food aid provided worldwide **. She also stated that food waste accounts for about 8% of annual global greenhouse gas emissions by humans, so solving this food waste problem will reduce greenhouse gas emissions. "As food waste reduction relates to climate change mitigation, if we take an action towards this goal, it will also help to achieve other goals and targets. In this way, we can create a virtuous circle."
Lastly, Ms. Kuniya introduced an impressive statement from an interview with Ms. Amina Mohammed *** in the NHK program Close-up Gendai that featured the SDGs: "The Earth can sustain itself without human beings, but human beings cannot exist without the Earth. It will be we human beings who disappear first." Ms. Kuniya concluded her presentation as follows: "As the earth seems to be degrading very quickly, how fast we can take actions for improvement is now the question."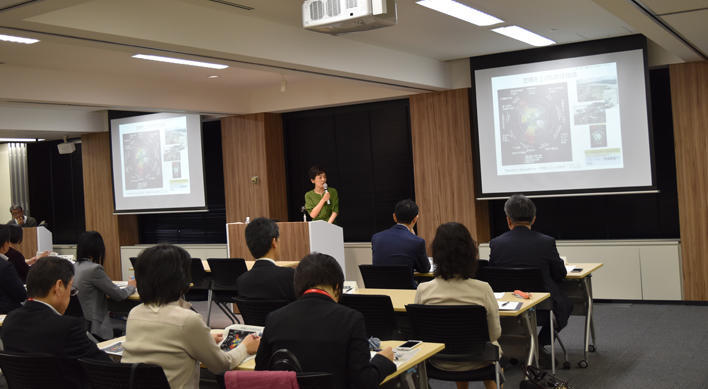 Ms. Kuniya presenting
*: According to a 2013 estimate by the Ministry of Agriculture, Forestry, and Fisheries
**: Calculated based on the published value of 3.2 million tons in Annual Report 2014 (The World Food Programme in 2014 Facts and Figures)
***: Special Advisor to the Secretary-General of the United Nations on Post-2015 Development Planning
Companies Must Work on the SDGs as Corporate Strategy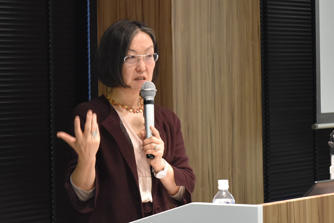 Mariko Kawaguchi, Senior Analyst, Daiwa Institute of Research Ltd.
Next up to the podium was Mariko Kawaguchi, Senior Analyst at Daiwa Institute of Research Ltd., who gave a presentation entitled "Corporate Trends Related to the SDGs." Ms. Kawaguchi began her presentation by emphasizing the following: "Although environmental issues are a long-term challenge, it has been 26 years since it was reported that climate change must be addressed immediately. However, we are still far away from the required 60% reduction target for greenhouse gases, so we must hurry up."
In 2015, two new frameworks, the SDGs and the Paris Agreement, were adopted to launch global initiatives aiming at fundamentally transforming the economy and society. Ms. Kawaguchi explained the status of the Japanese government's efforts as well as the details of case studies on companies that have already started working on the SDGs in Japan, noting that in the future, business strategies that contribute to achieving the SDGs will be required.
Ms. Kawaguchi declared that the following approaches are important to incorporating the SDGs into businesses:
Determine what to do by backcasting from the desired "ideal future," not by starting from what can be done now. -> Backcasting
Consider what we can do to meet stakeholders' needs; do not put focus on internal circumstances. -> Outside-in
Finally, she concluded her presentation as follows: "The SDGs are the most important goals common to all of humanity. Appropriately responding to the SDGs is the key to companies' future competitiveness. I hope you strive to further improve our society."
Fujitsu Putting the SDGs into Business Practices
Since its founding, Fujitsu has engaged in business under the basic principle of "Manufacturing in Harmony with Nature." Fujitsu established the Fujitsu Group Environmental Policy by recognizing environmental preservation to be one of its most important management issues, and it has set specific targets to put this policy into practice. In FY2016, Fujitsu formulated the Fujitsu Group Environmental Action Plan (Stage VIII) with the aim of expanding its contributions to customers and society. Fujitsu will work on helping its customers contribute to addressing social and environmental challenges while promoting business activities aiming to achieve zero emissions throughout the entire value chain.
With the target of contributing to the sustainability of society through ICT services, Fujitsu will further strive to develop and provide valuable solutions for customers and society while raising employees' awareness of the SDGs.
Fujitsu
November 16, 2016